Back to staff directory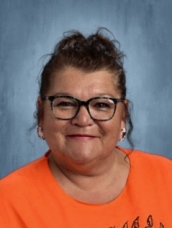 FNMI Liason Worker
First Nations, Metis and Inuit (FMNI) Liaison Worker - Serving all schools
I was born and raised in Taber and currently reside in Taber. I have two grown sons that I love to spend time with. Family and friends are always a big part of my life and I enjoy bringing joy and laughter to those around me.
With a background in personal care, I made the transition to FMNI worker seven years ago. It was my passion to help families and students that led me to this role. I have become more involved in the aboriginal culture and I like to provide these opportunities to my students and families through a variety of ways. The FMNI students have attended aboriginal job fairs, conferences and personal coaching on secondary career choices. Other hands on opportunities have included dream catchers, feather weaving, bannock making and smudging. I feel a deep connection to my students and I want to see them be successful.
My belief is that every person is created self-confident and want to live life fully is evident in my daily work and interactions with students and families. I like to think I am kind to all my students and they benefit from my devotion to them.